A major new report from trade body Euroelectric explores how renewables projects could work in harmony with nature recovery plans
Renewables developers and conservationists have always had a somewhat conflicted relationship. The vast majority of those who work to protect nature recognise that decarbonisation is essential to protect the biosphere in the long term, but they can also be understandably concerned at the impact of large scale renewables projects can have on habitats and landscapes. Accordingly, conservationists have often found themselves opposing renewables projects that they support in principle, but fear could have unacceptable biodiversity impacts in practice. Stir in protests, gory photos of birds that have come off worse in an encounter with a wind turbine, potential impacts on food production, and counter-accusations of 'nimbyism', short-sightedness, and the prospect of ever higher energy bills, and it makes for a combustible mix.
Now a major new report from trade body Eurelectric, which represents the European power sector, including many renewables developers and generators, is aiming to help defuse this heated debate, by exploring how new renewables projects can not just minimise their impact on biodiversity, but also play an active role in nature recovery.
The report, titled Power Planttakes an in-depth look at some of the renewables projects from across Europe that are successfully helping to boost biodiversity and asks how developers and policymakers can help "define a new model for renewables deployment" [whereby] integrated renewables projects contribute to regenerating nature and optimizing the benefit to society and the economy, in a spirit of collaboration and community ownership".
The report highlights how concerns over renewables' impact on nature and land use can appear overblown. After all, the total amount of land needed for solar, onshore, and offshore wind projects to deliver on the EU's climate and renewables goals by 2030 are remarkably small when set against the size of the continent.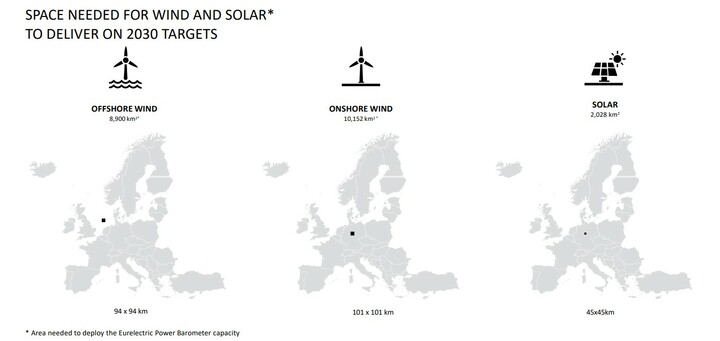 However, there are valid concerns about impacts on biodiversity and land use and these fears are a key factor in the lengthy permitting processes that risk derailing efforts to decarbonise the grid. The report notes average permitting time for new installations in Europe is four to six years, with some countries taking longer to give the green light to critical clean energy projects. "Shortening these lead times is a must to reach the 2030 goals," Eurelectic warns. As such, building confidence that renewables projects can be developed in a way that minimises biodiversity impacts could play a key role in streamlining planning processes and getting more renewables capacity built.
"Climate change and biodiversity loss can be tackled simultaneously," said Kristian Ruby, secretary general of Eurelectric. "Our industry has the means to reduce the ecological loss and go even further: restore nature… Electrification, supported by massive renewable and clean power deployment, can break the degradation cycle and contribute to biodiversity regeneration. We need transformative efforts at a scale that has never been attempted before."
However, he also acknowledged that the report does represent "a call to remove all barriers to speed and scale up the deployment of renewable power plants".
This call for a fast-tracking and streamlining of planning processes is backed by a series of best practice recommendations detailing how developers can deliver integrated renewable energy projects, which restore degraded ecosystems and remove carbon emissions, while also helping to revive degraded landscapes, revegetate desertified land, enable sustainable food production, and create new jobs and revenues.
Developed with input from architect firm EFFEKT, the report sets out a series of case studies that show how the idea that renewables projects and nature protection can operate hand-in-hand is not a dream pipe.
For example, it reports on how Italian energy giant Enel is undertaking an AgriPhotoVoltaic demonstration programme, where nine testing sites across Spain, Greece, and Italy, each with different climate areas and plant layouts, are using advanced sensors to track how agricultural production can be co-located with solar farms. "Specific solutions to safeguard local biodiversity and improve ecosystem services within plant and marginal areas have been implemented, through the creation of specific corridors between the PV module rows," the report explains, adding that high-tech hives have been installed, to assess the environmental health status of the surrounding areas, through the monitoring of the bees as biosensors.
Similarly, the St. Nikola Wind Farm provides a showcase of how Integrated Early Warning System for Bird Protection are already up and running, minimising the risk of birds colliding with the rotating parts of wind turbines by shutting down turbines when required to protect species of conservation importance.
Numerous further examples abound, ranging from floating offshore wind farms that remove the need for foundations that can impact the seabed and onshore wind farms that can be co-located with regenerative agriculture projects through to hydroelectric projects that collect and divert migrating fish and offshore wind farms that could be used to create artificial reefs and 'de facto no-fish zones'.
The report argues that there is a wide ranging "toolbox of possible synergies" for renewables and nature recovery projects that cover virtually every type of renewables project. For example, renewables projects can be co-located with wildflowers that support pollinators, nature corridors, and bee-keeping. Moreover, they can help fund peatland restoration and the expansion of natural carbon sinks, while solar projects can provide shading that can help tackle deforestation, or in the case of floating solar projects, enhance water security.
Many of the lessons apply just as much to smaller scale onsite corporate renewables developers as they do to developers of large-scale wind and solar mega-projects. Support for pollinators, bee hives, nature corridors, and the like can work at pretty much any scale and in any environment.
However, while growing numbers of developers are embracing measures to boost biodiversity, attempts to develop a more integrated approach to renewables and nature recovery projects are being hampered by a policy environment that has largely failed to engage with the issue.
As such, the report sets out a series of cross-cutting policy recommendations that aim to support the development of renewables projects that can boost biodiversity.
For example, it calls for reforms to the Common Agricultural Policy to recognise the value generated by co-located renewables and agricultural production and calls for the introduction of economic rewards or incentives to accelerate investments in low-risk, renewables and nature integrated projects.
More specifically, the report argues that the lack of definition of 'agrivoltaics' at the EU level, lengthy and undigitised permitting procedures, and the lack or low availability of environmental information critical for the completion of environmental studies are all hampering attempts to develop more nature -friendly renewable projects.
Meanwhile, at the developer level the report urges companies to explore greater levels of community ownership and take steps to better promote the wider environmental benefits associated with renewables projects to help address local opposition to new projects.
And it embraces long standing reforms calls for wider planning that allow for appropriately located renewable projects that biodiversity best practices to be fast racked. "RES priority zones, identified via spatial mapping on low biodiversity areas, shall support the development of a 'fast track' in terms of grid connection and further contribute to a more balanced and a cost-effective approach of RES deployment," the report states . "Fasttrack permitting procedures (eg, exemption/simpler Environmental Impact Assessment) should be enabled for integrated and strategically important, low-impact RES projects (ie, providing benefits for RES deployment, for the community, protecting biodiversity and minimising land-use). ), especially those being developed in degraded and just transition areas, in industrial facilities, or for those proving multiple synergies with other uses, as well as for repowering ones."
Perhaps most intriguingly, the report urges the European Commission to adopt a 'show-it-don't-tell-it' approach for how to integrate renewables development with biodiversity, arguing that the EU should "tender 27 massive RES projects across technologies that Demonstrate best practices for how to integrate biodiversity with modern energy production, with the help of a stakeholder advisory panel/group to inform the call for tender and guide the selection process".
Of course, such initiatives are unlikely to win over all of those concerned about the potential impact of renewables on biodiversity and at the 'industrialisation of the countryside'. It is also true that poorly located or badly designed renewables projects can have adverse impacts on nature. But the report does highlight how the land use impact of renewables projects is much lower than is commonly understood and how the sector could yet play a sizeable role in boosting both biodiversity and more sustainable agriculture. As both European and UK policymakers explore how to reform farming subsidies, reverse the decline of nature, and deliver on ambitious decarbonisation goals, they would be wise to explore how an at least partial truce might be engineered in the long-running stand-off between developers and conservationists.
.